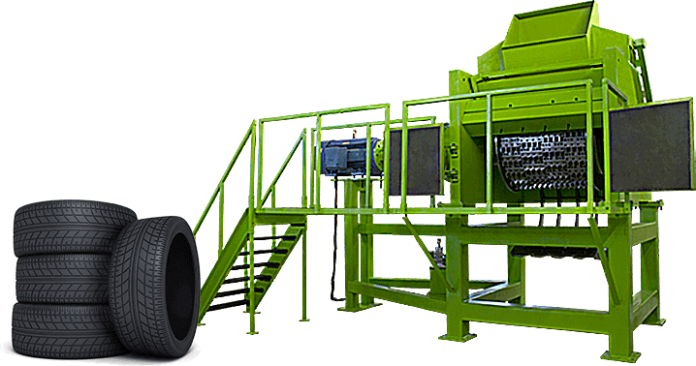 Do you know, every year, the United States produces about 300 million scrap tires? Luckily, tire recycling has become popular with government interaction and entrepreneurs initiative.
Many people claim to take tire recycling as their business initiatives. Even most of today's heavy-duty tires are recycled. Also, the uses of recycled tires are everywhere, from landscaping mulch to playground cover.
To proceed on with tire recycling, tire shredder is a necessary tool. Let's know more about tire shredder and its working principles.
Tire Shredder
Tire shredder is a machine that can shred different types of tires and rubber products. It mainly tears car tires, bicycle tires, truck tires, motorcycle tires, skew tires, rubber tires, engineering tires, etc.
The machine shreds anything into a 5-10cm shape. Later, it can be processed again by using a grinding tool to make it fine rubber powder. This machine can also shred steel wire tire, which has a diameter of less than 2000mm.
Shredding a steel wire tire doesn't require any pre-treatment, and it can be crushed directly. This tool comes handy to increase production efficiency and save labor.
Components of Tire Shredder
Well, let's make an inquiry now on the components of tire shredder;
Frame: At the outside, it has a thick, durable, and high-quality steel plate.
Motor: Mostly, tire shredder features three-phase pure copper motor. It can boost the machine's overload time.
Control System: The motor of tire shredder features a PLC control system. It can adjust the step and speed of the motor.
Blades: It has high strength steel-made blades that are forged with alloy steel. The build-quality of blades ensures high precision for shredding.
Bearing Seat: It removes the blade, bearing, and other components for ease of maintenance.
Reducer: A high-tooth surface reduction offers better precision, stable operation, high transmission efficiency, minimum noise, and small size.
Rotary Sieve: It keeps the raw material size larger than sieve hole into the shredder to shred again.
Types of Tire Shredder
With different materials, tire machines vary in their process and design. Tire shredder comes in the following types;
Shear Shredders: It uses low-speed and includes two shaft rotary knives to cut materials.
Chippers: It uses high-speed wheels, rotary knives, and drums to cut materials into bits.
Grinders: It works at both high and low speed and uses plates, drums, and wheels.
Granulators: It uses knives to cut materials.
Specialty Shredders: It uses a low-speed rotary shaft with high-torque to tear tire forcefully.
Working Principle of a Tire Shredder
Tire shredder includes a motor, rotary knife shaft, hard-tooth surface reducer, movable knife, box body, frame, and a working platform inside. Once you place the tire into the shredder, the knife claw pulls the material into the crushing cavity.
It tears down rubber into small pieces and discharges from the lower part. Also, the steel wire part is separated inside and release from other compartments.
Advantage of Tire Shredder
Tire shredder supports the recycling process of the tire, instead of polluting the environment.
It encourages the reuse of scrap tires by easing the recycling process.
To Conclude!
Tire recycling can be challenging without a tire shredder. Nowadays, a lot of companies are investing in a tire shredder to minimize production costs. That's where we can help you as we provide the equipment needed for tire recycling.