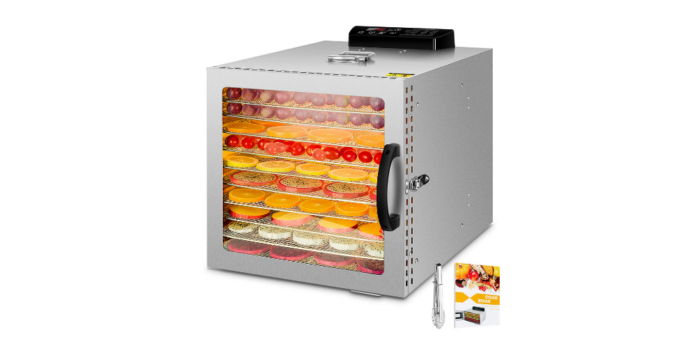 Dehydrators remove the water which is naturally found in the food. While on the other hand dryer removes the water from the food that is not chemically bound to the food. Food dehydrators circulate the air at low temperatures to increase the period. Dehydrators do not cook food with heat dehydrators removed the moisturization from the food and dried it. The food can be kept for a long time. Some oven does not offer the same low temperature option as the dehydrators provide the same low temperature.
If you buy a food dehydrator, you must remember some essential points. Suppose the nutritional food value is retained or not. Increase the age of preserved food. Cost-effective and more convenient. It must have been simpler to check the completion. The food dehydrator must have an adjustable thermostat.
In this article, we will talk about commercial dehydrators and the types of commercial dehydrators. Read the full article to get information about commercial food dehydrators. Food dehydrated are also called industrial dehydrator.
Commercial Food Dehydrators
Commercial food dehydrator creates quality dried foods by maintaining the perfect and smooth texture of the food. Food dehydrators machines swiftly take the fruits and convert them into well-preserved forms of food by the process of dehydration of the foods. These dried foods are used in different dishes and packaging to be sold the consumers in market. Commercial hydration is done by the dehydrators of the food, which are ovens. These ovens are designed to accelerate food moisture evaporation. The heating unit in the dehydrator is used to increase the temperature. On the other hand, the fan circulates the air inside the dehydrator, Preserving the remaining food while removing the water.
Types of Commercial Food Dehydrators
There are some best commercial dehydrators.
Basic Commercial Dehydrator
All food dehydrators are made up of steel, plastic, or stainless steel. This essential dehydrator has a stainless steel body. It has a built-in timer and a spectrum of color-coded temperatures. During smoking there is no need of rotation of the tray. This machine makes the way of dehydration simple and intelligent. An essential food dehydrator is best for fruits, vegetables, and meats. It has a power of 120V and a maximum temperature of 155° F with an adjustable thermostat. It has timer of 12 hours.
Electric Food Dehydrator with Customizable Settings
At the commercial level, some businesses frequently dehydrate the same types of food in the same dehydrator. This business needs a dehydrator that remembers quick and responsive dehydration settings. This food dehydrator is best for those types of companies. This food dehydrator is best for food that is specialized in the same food inconsistent settings. It has a power of 120V and a maximum temperature of 90 to 180° F with an adjustable thermostat. It has a timer of 40 hours.
Conclusion
You can find products online. Hope this article will be beneficial for you.