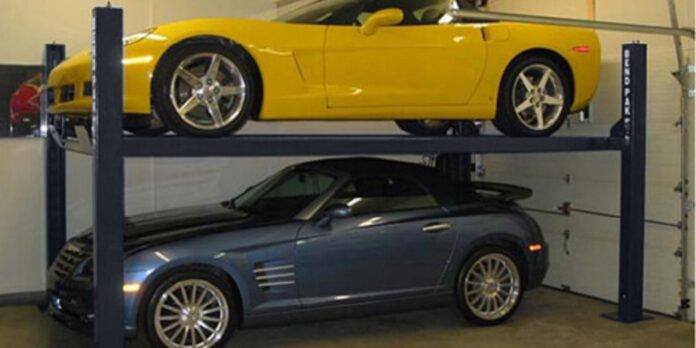 Garages and showrooms have many cars on their display. These cars are arranged in rows in front of each other in perfect alignment. The cars are transported from one point to another or are raised to another level with the help of some load carriers. This carrier is called Garage Car Elevator. Such car elevators are strong and made of fine-quality steel and aluminum. The steel is corrosion-resistant and makes the lift durable.
You can quickly move cars with the help of these elevators, even from places where cars cannot pass. Garage car elevators may be of two types;
1. For the maintenance of cars:
Cars require regular repair and maintenance, including oil changes, tuning, or changing any car part and washing. You can use two or four post-car lifts for this purpose. They will hold your heavy-weight vehicle with proper balance and safety above ground level. Two-post garage lifts have only two arms with no ramp. However, four-post lifts have an appropriate platform for holding cars.
2. For lifting the cars:
Such lifts are mainly used to transfer vehicles from one floor to another. You can install a lift in your home garage to transport the car to the basement. However, these lifts are commonly used in factories and display showrooms.
Advantages of garage car lifts:
You will always find your investment in garage car lifts on the brighter side. The following are some advantages of these elevators:
You can easily take care of your car in your home garage. In short, you don't need to rush to a mechanic for simple services, and it saves you from overpaying.
They increase the space for car parking by allotting another floor, i.e. lift ramp. It is beneficial for people who have small garages.
The vehicles which are kept on garage car lifts are in good form as compared to those which are exposed to the weather. Furthermore, if you sparingly use one car, you can park it on the lift ramp while the other is below the ramp. This saves your vehicles from theft or any other damage.
Your garage car elevators are long-term assets as they are durable and sustainable. These are worth your investment.
Precautions before installing a car elevator:
It will help to be cautious about your garage's condition before installing lifts. This is because most of the lifts are in-ground lifts requiring drilling in your garage for installation. If your garage condition is not fine or has leakages or cracks in walls, you must renovate the garage first. In addition, your garage must have enough room to install a lift. You should measure the dimensions of your garage before placing an order for a lift.
Conclusion:
Garage car lifts are safe to use and cause no harm to your vehicle. You should follow proper instructions given by the company to use your garage lift to avoid any mishap. Investing in these elevators will save you from future expenditures, as you can do maintenance work on your cars at your place.