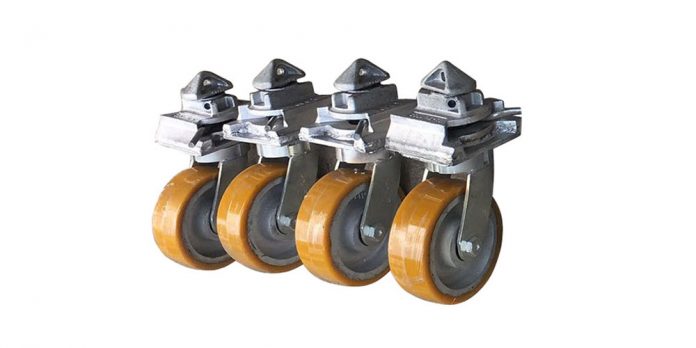 Shipping containers can be very hefty, especially when they have items already packed inside. Investing in the best shipping container wheels is crucial for individuals who deal with shipping containers daily. Intermodal container wheels allow the container to move quickly, which enhances the effortless loading, packing, and moving of the intermodal container. It is vital to conduct thorough research on the different wheel types available in the market. That allows the user to select the right wheels for the container.
The Best Intermodal Container Wheels
The best container wheels for a particular individual are the ones that suit that specific individual needs. That is an implication that the best wheels are different for different users. Container wheels vary depending on the ease of installation and sturdiness. Before purchasing intermodal container wheels, one must consider the container's size, the work area's surface, the mounting technique, the rotation needed, and whether the wheels will be permanent or temporary. This text provides details about varying types of wheels which is necessary information for the selection process.
1. Clip-on wheels
Clip-on shipping container wheels, also known as clip-on dolly spindles, are ideal for users without assistance moving the container. The wheels have a robust steel material structure and encompass bearing that enhances safety. The wheels are the perfect option for individuals who can only move intermodal containers for short distances. They are also ideal for carrying an empty container with tires and rims. These spindles can move a container that weighs 6000 to 8000 pounds.
2. Superior quick-set wheels
The superior quick-set container wheel is also in the spindle series of wheels. The spindle structure is a product of high-quality carbon steel material. Different parts of the quick-set wheels have a perfect and robust assembly to prevent rotation. That translates to the users' safety and the items the individual is moving in the container. With these wheels, one can move a container that weighs up to 8000 pounds. The deal breaker about these wheels is that they don't have a braking system. Therefore, if a container uses these wheels, one must operate at a very low speed. Also, one must get tires and rims separately to use these spindles.
3. Removable wheels
Removable shipping container wheels are suitable for users who need to install them at a particular time, carry out the necessary tasks, and remove them. The type of wheels is large, with 14 and 20 inches in length and width, respectively. The removable wheels are the real deal if you need to move a shipping container on a rough area or a surface with bumps. The weight that removable wheels can support is up to 10,000 pounds. Installing these wheels is easy; thus, it takes the user less time. A single set of removable wheels can serve several containers since installing and removing them is simple.
4. ContainGo end wheels
ContainGO end shipping container wheels are an example of an all-in-one package. One does not need to purchase rims and tires separately since the containGo end wheel comes equipped with those parts. The wheels can hold a weight of 3500 pounds that's on the move and 8000 pounds of load that is not on the move. They are ideal for smooth surfaces; one must lift the container to install them.
Conclusion
Intermodal container wheels are not items that one wants to buy every day. Therefore, investing in quality wheels that will last a long time and still serve their purpose is essential. Determine your shipping needs to select the best wheels for your shipping container.